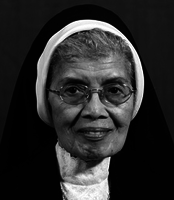 Sister Lina (Rizalina) Pagdilao, OSF
Sister Lina (Rizalina) Pagdilao, OSF, went home to God on Saturday, June 24, 2017 in Syracuse, New York. She was born in Waialua, Oahu, Hawaii to Roberto Garcia and Antonia Sarming Pagdilao. Sister Lina was 85 and was a Sister of St. Francis for 57 years.
She received a Bachelor's Degree in Education from the College of St. Rose in Albany, N.Y. and a Master's Degree from the University of Scranton in Scranton, Pa. Sister ministered for over 50 years in the field of Education, teaching in schools in California, Hawaii, New Jersey, New York and North Carolina. Upon returning to live in Syracuse, New York in 2007, Sister worked for a short while as a chocolate maker for Nun Better Chocolates. Her next ministry was in Community Service for the Sisters of St. Francis with whom she lived.
Sister will be remembered for her prayerfulness, love of her native Hawaii and her spreading of the Hawaiian spirit by bestowing floral leis on many people. Sister was diligent and exacting in whatever she undertook and also had a strong love for her family as well as a caring, devotedness to her community. She quietly went about doing good for others.
She was predeceased by her brother Frank S. Tabanera and her sisters Esmeralda P. Casebeer, Constance P. Smith and Rose Rausch.
She is survived by several nieces and grand nieces, nephews and grand nephews and the Sisters of St. Francis.
A Mass of Christian Burial will be held at the Franciscan Villa Chapel, 6900 Buckley Road, Syracuse, NY 13212 on Thursday, June 29, 2017 at 7:00 p.m. Calling hours will be in the Chapel from 3:30 to 6:30 p.m. A farewell service will be held on Friday, June 30, 2017 at 8:30 a.m. in the Chapel. Interment will follow in Assumption Cemetery.
In lieu of flowers, donations may be made to the Sisters of St. Francis of the Neumann Communities, Mission Advancement Office, 6900 Buckley Road, Syracuse, NY 13212.